mcgarvey residential communities

ABOUT US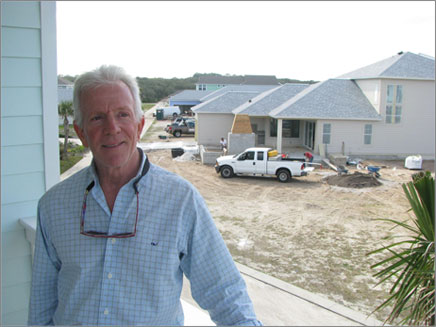 Jay McGarvey
Founder of
McGarvey Residential Communities
Jay McGarvey is a man with a passion. For over three decades, he has dedicated himself and his company to building communities that will be here for years to come—neighborhoods that both celebrate and preserve Florida's incomparable natural resources.
Whether in an oceanfront setting, alongside the shimmering expanse of a river or lake, or tucked away among century old oaks and rolling dunes, these communities are rich with classic Old Florida details. There are porches to catch the breezes, and to catch up with neighbors, graceful streets landscaped with native grasses and trees, and lovely spaces to relax and gather.
Since 1980, McGarvey Residential Communities has developed some of the most desirable neighborhoods in North Florida, from Oceanwalk in Atlantic Beach, to Seaside in Ponte Vedra Beach to its newest communities in St. Augustine Beach, Sea Colony, Anastasia Dunes, and SeaGrove, as well as Old San Jose on the River in Jacksonville. The company's core principles are evident in every McGarvey community: Design the community carefully. Pay close attention to the built environment. Use only the finest materials. Preserve every possible tree. And landscape lavishly.
McGarvey to develop Ocean Ridge in St. Augustine Beach
McGarvey Residential Communities is developing Ocean Ridge, a new community in St. Augustine Beach that the company says will reflect a commitment to conserving Florida's natural resources.
"For the past 17 years we have been known as a significant steward for preserving the distinctive beauty that lies in the splendor of St. Augustine Beach's native features, while creating desirable neighborhoods," President Jay McGarvey said. "Ocean Ridge will be no exception."
Lots by Generation Homes available at Sea View
Anticipation continues to grow about Sea View in south St. Augustine Beach, Generation Homes' newest neighborhood along State Road AIA.
The builders at Generation Homes set the standard for beach living from Jacksonville Beach to Palm Coast. Sea View has specially designed homes on 28 lots.